ADVANCED FILTRATION
Highly adsorbent fiber surfaces provide excellent molecular filtration
Select from a variety of mechanical and electrostatic substrates to suite your application and efficiency requirements
Precisely wound rolls for easy and accurate laminating and sheeting
Open structure = low pressure drop
High dirt-holding capacity = long life
Clean processing = no carbon "dusting"
Carbon and other additives available, such as, sodium bicarbonate, silver ions…
No glues or binders to interfere with additive's performance
WHAT TO LOOK FOR IN GAS-PHASE MEDIA
Surprisingly light concentrations (ppb to ppt) of pollutant molecules make indoor air unattractive. Carried in an air stream, these molecules "experience" a gas-phased HVAC filter for a few milliseconds. Short "windows of opportunity" result in molecules collecting only on the adsorbent's outer surfaces. Hence, surface structures deeper than a fraction of a micron from the outer surface are wasted. Adsorbent filters offering insufficient outer surface area (outerSA) function poorly. Obviously, the challenge is to produce HVAC filters containing adsorbent which is entirely outerSA.
MERV 8 – MERV 11
Electrostatic, synthetic, filtration media, suitable for wire-backed pleat and bag filter applications.
MERV 8
Mechanical, synthetic media, typically used in wire-backed pleated and bag filters.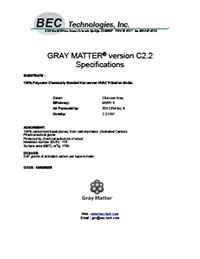 Gray Matter 2.2 Spec Sheet
HIGH-LOFT, MERV 8
Mechanical, polyester filtration media. Best used as bulk fill for permanent frames, or as a component in ring-panel filters.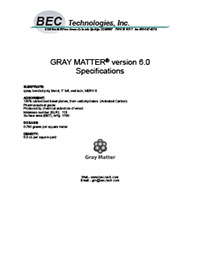 Gray Matter 6.0 Spec Sheet
A CLOSER LOOK
Gray Matter is manufactured with high quality pharmaceutical-grade carbon produced from hardwood.
GRAY MATTER @ 4900X
Our patented application process effectively distributes this submicron carbon on a variety of fiber surfaces.
APPLICATIONS
Gray Matter was designed with residential and commercial HVAC industries in mind. Features such as Gray Matter's open structure; low pressure drop; high dirt-holding capacity; excellent particulate and molecular retention; and low cost, make it particularly well-suited as HVAC pleated, pocket, and bag media.
We know that in manufacturing such products, having media in the right form and dimension is almost as important as the media itself. We pre-slit roll media any width from 6″ to 28″ and produce sheets of any dimension up to 28″ wide.
CONTACT US FOR SAMPLES
Please call us to discuss your application or request samples.